Thank you for your message. We will be in touch as soon as possible.
Please note: Submitting this form does not guarantee your reservation. Ricardo will contact you to confirm the booking.
If you would like to book a same day cruise, please contact Ricardo on 0412 929 369.
For any cancellation or rescheduling of bookings we require 48 hours notice. Cancellations due to poor weather will be at our discretion, based on our consideration of the local weather conditions on the day of the booking.

Our cruises are by booking only. To confirm your booking, we require a deposit or pre-payment by credit card or direct deposit.
If you would like to pay by direct deposit, our banking details are below. Please use your surname as a booking reference.
Gondolas of Noosa Pty Ltd
BSB: 064449
A/C: 10092896

for Noosa Dinner Cruise | Breakfast Cruise | Sunset Cruise | Uncatered Cruise etc..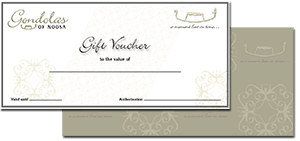 Gondolas of Noosa can also provide you with a fabulous gift idea for your friends or loved ones. We have gift vouchers available for anything from a 1 Hour Cruise to a fully catered cruise Ultimate Romance Cruise.
Simply choose your gift voucher and pay online, and we will send you out a beautifully printed gift voucher you can use as a present (or even for yourself).
If you need a gift voucher in a hurry, we can simply scan and email the voucher instead.
 Please visit our Online Shop for the full range of gift vouchers.
"Perfect Anniversary Gift"
My sister and I booked our parents a tour with Gondolas of Noosa as a surprise gift for their 25th wedding anniversary, while they were on holidays all the way from South Australia.
They went on the moonlit dessert cruise and had an amazing time, saying that it was the perfect way to celebrate their anniversary and finish their trip away. Thanks Richard!